LGBT Republicans slam DeSantis ad as 'homophobic'
The campaign spot contrasts former president Donald Trump with the Florida governor on LGBT issues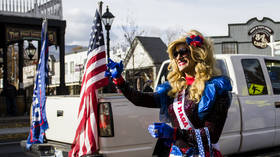 A promotional video contrasting former US president Donald Trump's statements in support of LGBT rights with Florida Governor Ron DeSantis' own policies upset some LGBT Republicans, who argue the spot, posted by the DeSantis campaign to Twitter on Friday, is homophobic.
Conservative LGBT advocacy group the Log Cabin Republicans denounced the message as "divisive and desperate" in a tweet, arguing the campaign was alienating "swing-state and younger voters" by "ventur[ing] into homophobic territory."
"This old playbook has been tried in the past and has failed — repeatedly," they continued. "DeSantis and his team can't tell the difference between commonsense gays and radical Left gays."
Former Trump acting director of national intelligence and first openly gay White House official Ric Grenell agreed via Twitter that the video was "undeniably homophobic," while former Olympic athlete turned trans-woman Caitlin Jenner, featured in the video, called it a "new low" for DeSantis.
Over audio and occasional video of Trump confirming he would allow Jenner to use the women's room at Trump Tower and inviting trans-women to compete in his Miss Universe beauty pageant, the clip superimposes images of a "LGBT for Trump" shirt, the conservative drag queen "Lady MAGA," and a tweet in which Trump expresses solidarity with LGBT people in countries where being gay is punishable by death.
For DeSantis, it runs a series of headlines accusing him of signing the "most extreme slate of anti-trans laws in modern history," a "draconian anti-trans bathroom bill," and "anti-LGBT and anti-American [legislation]," along with more descriptive headlines decrying his latest legislative assaults on drag shows for kids or sex ed instruction in schools, over clips of the Florida governor looking decisive, flashes of Tom of Finland-type muscle-men, and snippets from the films Troy, Wolf of Wall Street, and American Psycho.
DeSantis' rapid response director Christina Pushaw defended the candidate's policies, insisting "opposing the federal recognition of 'Pride Month' isn't 'homophobic'" because "we wouldn't support a month to celebrate straight people for sexual orientation, either." While the video was posted by the @DeSantisWarRoom account, it's not clear that it was actually produced by the DeSantis campaign, as it does not feature the obligatory "this is [name] and I approve this message" language legally required for official campaign ads.
Trump declined to comment on the video during a campaign rally in South Carolina on Saturday. Despite a friendly history with the LGBT community preceding his political career, his critics have depicted him as a bigot determined to drag the US back into the closet. During his first term, he banned transgender people from openly serving in the military, and he has vowed to cut federal funding for schools and healthcare facilities pushing "transgender insanity" in 2024.
You can share this story on social media: