Families of fallen Ukrainian soldiers demand American style cemetery
The protesters urged authorities to create a national war memorial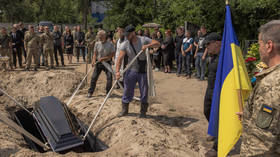 A small-scale protest, staged by families of fallen Ukrainian soldiers, including members of the notorious neo-Nazi Azov regiment, was held in the heart of Kiev on Friday. The protesters gathered in the Independence Square (the Maidan), urging Ukraine's authorities to build a national military cemetery.
The protesters carried portraits of their fallen relatives, as well as displayed several banners. One of them read "Government, where's the Ukrainian Arlington?" while another said "Military cemetery cannot wait." One large banner also stated "National military cemetery must emerge in Bykovnya in 2023," referring to promises to create such a site in the aforementioned Kiev suburb, previously voiced by top Ukrainian officials.
"The construction of the national military cemetery, promised by the authorities this year, has not even started. The authorities must hear us and understand that the cemetery for the soldiers who died in this war cannot wait," one of the event's organizers, the head of civic group 'Heart Out,' Vera Litvinenko, said during the rally, as quoted by local media. Litvinenko's son was killed during the ongoing conflict between Russia and Ukraine, which has been raging on since February 2022.
Lack of space to bury fallen soldiers has apparently been an issue for Ukraine for some time already. Multiple videos circulating online show rows of fresh graves emerging at the burial sites all across the country.
In some locations, authorities have to exhume old graves to make room for the newly deceased, the New York Times reported last month. For instance, a groundskeeper at one of the cemeteries told the newspaper that the management of the site had decided to exhume unmarked graves from World War I, as it ran out of space.
Both Ukraine and Russia have been tight-lipped on their frontline casualties, each claiming that their opponent has sustained significantly more than they report. Moscow has repeatedly accused the collective West of pushing Kiev into waging war "to the last Ukrainian," warning that the continuous flow of military aid to the country is only bound to increase the cost of war for Ukrainians.
You can share this story on social media: