US Congress may need to impeach Supreme Court judges – AOC
The Democrat lawmaker has claimed recent rulings reflect an authoritarianism and abuse of power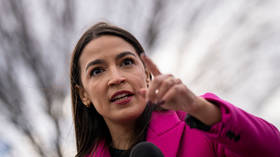 US Representative Alexandria Ocasio-Cortez (D-New York) has accused the Supreme Court of abusing its power with "authoritarian" rulings on such issues as abortion, LGBTQ protections, and race-based college admissions, arguing that lawmakers should consider impeaching justices for breaking laws.
She told CNN on Sunday that if Chief Justice John Roberts does not voluntarily testify in a congressional probe of alleged ethics violations by Supreme Court judges, lawmakers should consider issuing subpoenas to demand answers. The New York Democrat also called for imposing more stringent ethics guidelines to help maintain a proper balance of power among the nation's three branches of government.
"There also must be impeachment on the table," Ocasio-Cortez said. "We have a broad level of tools to deal with misconduct, overreach, and abuse of power."
The congresswoman made her comments after a string of rulings last week in which the nation's high court struck down President Joe Biden's plan to wipe out $400 billion in student loan debt, blocked colleges from admitting students based on skin color, and upheld the free-speech rights of a Christian graphic artist who refused to offer her services for same-sex weddings. She also cited last year's decision overturning Roe v Wade, a landmark 1973 ruling that had protected abortion as a constitutional right.
"The courts, if they were to proceed without any check on their power, without any balance on their power, then we will start to see an undemocratic and, frankly, dangerous authoritarian expansion of power in the Supreme Court, which is what we are seeing now," Ocasio-Cortez said.
For instance, the court's ruling on refusing services for same-sex weddings stripped away "the full personhood and dignity of LGBTQ people," she said. "These are the types of rulings that signal a dangerous creep towards authoritarianism and centralization of power in the court."
Ocasio-Cortez and other members of the far-left "Squad" group of Democrat representatives have called for expanding the court to 15 justices, arguing that "democracy is in crisis" because six of the nine current judges were appointed by Republican presidents. Biden, who would get to appoint six left-leaning justices in such a scenario, said on Thursday that expanding the court would harmfully politicize the judicial branch.
You can share this story on social media: