Grandmother of French shooting victim calls for end to riots
Rampaging youths have used the death of a teenager as "an excuse" to commit crime, the boy's grandmother has said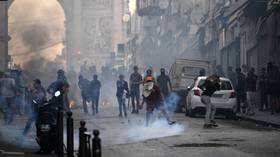 The grandmother of a French-Algerian teenager slain by police has pleaded with rioters to stop their spree of looting and destruction. Meanwhile, the country has braced itself for a sixth straight night of anarchy.
"I say to the people who are breaking things: stop. Don't break windows, don't smash up schools, don't smash up buses. Stop it, there are moms on buses, there are moms walking outside," the woman, identified as 'Nadia', said in a phone interview with BFMTV on Sunday.
Nadia condemned the rioters for using the death of her grandson as "an excuse" to break the law, adding that they and the policeman who shot the boy would all face "justice."
France has been gripped by violent protests and riots since Tuesday, after police in the Paris suburb of Nanterre shot and killed a 17-year-old Franco-Algerian boy identified as Nahel M. when he refused to comply at a traffic stop.
Despite the fact that the officer who shot Nahel was swiftly arrested and charged with homicide, the incident triggered a wave of nationwide violence that has since spilled over into Belgium and Switzerland.
Primarily instigated by youths from immigrant backgrounds, the unrest has escalated to the point where rioters used a vehicle to ram the home of Vincent Jeanbrun, the mayor of the Paris suburb of L'Hay-les-Roses, on Sunday, before attempting to torch the house with Jeanbrun's family inside.
Rioters have also attacked police officers with fireworks and molotov cocktails, and some have been seen brandishing military-grade firearms.
The deployment of 45,000 police officers and the arrests of more than 2,800 rioters have thus far failed to quell the disturbances. However, the French interior ministry said on Sunday that the number of arrests fell from 1,300 on Friday night to 719 on Saturday night.
The average age of those arrested is 17, Interior Minister Gerald Darmanin stated.
On Saturday, French President Emmanuel Macron postponed a planned visit to Germany due to the continuing violence. Meanwhile, several European countries, including the UK, have advised their citizens to avoid traveling to affected areas. Macron has faced criticism for his handling of the riots, with two major police unions calling on Friday for the president to launch a harsh crackdown on the "violent minorities" rampaging in the streets.
You can share this story on social media: