Ukrainian commander complains about French tanks – AFP
The AMX-10RC is getting troops killed because its armor is too thin for assaults against Russian forces, an officer has claimed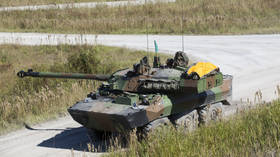 A Ukrainian military commander has reportedly raised concerns that light combat tanks supplied to the former Soviet republic by France aren't suitable for attacks against Russian defensive lines because their thin armor can easily be pierced by artillery shells and other weapons.
Touted earlier this year by Ukrainian Defense Minister Aleksey Reznikov as a "sniper rifle on fast wheels," the French AMX-10 RC armored fighting vehicle has proven "impractical" during Kiev's current counteroffensive against Russian forces, Agence-France Presse (AFP) reported on Sunday. One four-man crew has died because of the tank's thin armor, which can easily be pierced by Russian weaponry, a Ukrainian battalion commander told the media outlet.
"Unfortunately, there was one case when the crew died in the vehicle," said the 34-year-old Ukrainian major, whom AFP identified only by his call sign, Spartanets. "There was artillery shelling, and a shell exploded near the vehicle. The fragments pierced the armor, and the ammunition set detonated."
Reznikov was filmed in April riding in an AMX-10 RC, which was among the Western weaponry rushed to Kiev this spring for a long-awaited counteroffensive that finally began in June. "These fast, modern machines with powerful guns will aid us in liberating our territory," Reznikov said in a Twitter post thanking French President Emmanuel Macron and Defense Minister Sebastien Lecornu. "This is what liberty, equality and brotherhood look like."
However, Spartanets said the French tanks have proven to be ineffective in front-line assaults. "The guns are good, the observation devices are good, but unfortunately, there is thin armor, and it is impractical to use them in the front line," he said.
Just sending out the vehicles so they get destroyed, I consider it is impractical and unnecessary because it's primarily a risk for the crew."
The Ukrainian commander added that the AMX-10 RCs also has been plagued by breakdowns in their gear boxes, possibly because of their use on dirt roads. Kiev's troops received one month of training in France, which wasn't adequate to master operating the vehicle, he said.
The 20-ton AMX-10 RC travels on wheels, rather than tracks. It was developed in the 1970s for armed reconnaissance and attacks on tanks. The French military is in the process of replacing its fleet of AMX-10 RCs with the more modern EBRC Jaguar.
Thousands of Ukrainian troops have been killed in the counteroffensive, which has failed to breach Russia's defensive lines. Dozens of Western-supplied armored vehicles have been destroyed, including German-made Leopard tanks and AMX-10 RCs, according to the Russian Defense Ministry. The New York Times reported last week that 17 of the 113 Bradley fighting vehicles supplied to Kiev by the US have been damaged or destroyed.
You can share this story on social media: