Belarusian embassy vandalized in the Netherlands
The building was daubed in graffiti calling President Alexander Lukasheko a "terrorist"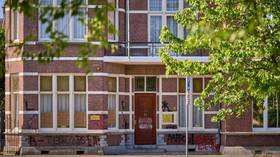 Dutch police have arrested one suspect after the Belarusian embassy in The Hague was vandalized. The building's windows were smashed and its facade sprayed with graffiti.
A 31-year-old man was arrested outside the embassy on Saturday night, the Omroep West news network reported on Sunday. It is unclear whether anyone else was involved in the vandalism.
The Belarusian Foreign Ministry confirmed the incident to Sputnik Belarus.
Several windows were smashed and slogans were sprayed onto the building with black and red paint. One read "Luka – Terrorist," referring to Belarusian President Alexander Lukashenko, while another read "Long live Belarus."
Vandals attacked the Embassy of Belarus in The Hague . The glass in the building was broken, and the walls were painted with paint. pic.twitter.com/EL8Jz6qaKI

— Vincent (@VBerndsen) July 2, 2023
The incident was condemned by liberal politician Sjoerd Sjoerdsma. "No matter how rightly angry you are at the regime of Belarus, Russia or other countries, do not attack their embassies or residences," he wrote on Twitter, adding that such attacks make "our diplomats in those countries less safe."
Russian consulates and embassies have been targeted by vandals in several Western countries since the start of Moscow's military operation in Ukraine last February. Belarus' diplomatic outposts, however, have not been targeted since 2021, when a group of anti-Lukashenko protesters defaced the country's embassy in London and injured a member of its staff.
Lukashenko is a staunch ally of Russian President Vladimir Putin, and Minsk has been placed under many of the same Western sanctions as Moscow since Lukashenko allowed Russian forces to launch an offensive on Kiev from Belarusian territory last year.
The Belarusian leader made international headlines in May when he agreed to host Russian nuclear missiles in Belarus, and again last week when he brokered a deal that ended Wagner Group leader Evgeny Prigozhin's short-lived mutiny and march on Moscow.
You can share this story on social media: