French mayor's family targeted in 'shocking' attack
A group of rioters rammed a car into the home of a Paris suburb's top official and apparently tried to set it ablaze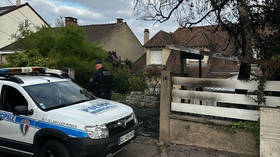 The home of mayor Vincent Jeanbrun of the Paris suburb of L'Hay-les-Roses, was attacked by unknown assailants on Sunday. The mayor, a member of the conservative Les Republicains party, was not at home at the time of the incident, but his wife and two children were sleeping in the house and had to flee.
The attack comes as France endures almost a week of widespread, nightly violence and lawlessness triggered by a fatal police shooting of a 17 uyear old boy.
"At 01:30am, as I was in the town hall just like the two previous nights, people ram-raided my home before starting a fire to torch my house, where my wife and my two young children were sleeping," the mayor said on Twitter, adding that his wife and one of his children was hurt during the attack.
Jeanbrun denounced the incident as an "assassination attempt," insisting, nonetheless, that his determination to "protect and serve" France was "greater than ever" in the wake of the attack.
The mayor's home was visited by French Prime Minister Elisabeth Borne later on Sunday, who denounced the incident as "particularly shocking." "We will let no violence get by," she told reporters on the scene, pledging to punish the perpetrators with the "utmost severity." Thus far, however, no suspects have been apprehended.
Footage from the scene shows the fence of the mayor's house partially destroyed, with several burn marks visible on it and on the ground. The house itself appears to be smeared with soot. A criminal case into the incident has been launched, with Creteil public prosecutor Stephane Hardouin telling French media that an initial assessment suggested that the car used in the attack was meant to breach the house and set it ablaze.
The damaged vehicle recovered from the scene contained a bottle of accelerant in it, the official added.
France has been the site of a wave of widespread rioting, with hundreds of properties vandalized, cars torched, and public buildings across the country attacked. The unrest was triggered by the fatal police shooting of 17-year-old Nahel M. during a traffic stop in the Paris suburb of Nanterre on Tuesday.
While hundreds of rioters have been arrested and some 45,000 law enforcement officers deployed to quell the unrest, the violence continues across the country.
You can share this story on social media: