Russian kamikaze drones a major headache for Ukraine – Telegraph
Kiev needs more Gepard air defense systems to fight Lancet UAVs, an adviser to the defense minister told the outlet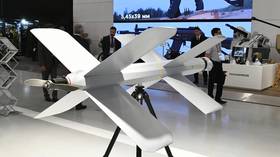 Russian Lancet kamikaze drones have become a major thorn in the side of Ukraine's frontline troops, and Kiev needs more advanced Western weaponry to tackle this threat, the Daily Telegraph reported on Saturday, citing a senior Ukrainian official.
According to Yury Sak, an adviser to the Ukrainian defense minister, Kiev's intelligence believes that Russia has "started investing more in the production of these drones."
"To understand why they are a concern to us, anything that is capable of damaging our equipment or posing a risk to our troops is a concern to us," Sak said. "Without giving the Russians credit, it's not a bad bit of kit."
Russian Lancets, which carry up to 3kg of explosives, fly at low altitudes to avoid detection, are highly maneuverable, and can loiter in the air until the target exposes itself. These factors make them a major threat to Ukrainian artillery, especially given that Kiev is reluctant to use air defense missiles on these relatively cheap aircraft, the report says.
Sak told the paper that the West can help Ukraine fight these UAVs by sending additional air defense systems, particularly German-made Gepards, which are armed with anti-aircraft guns.
"They're mobile, they can move around quickly and they have a good radar that can be integrated into the line," he said.
Germany has already sent 34 Gepards to Ukraine, with another 18 on the way. In total, according to German officials, Berlin plans to supply Kiev with 45 Gepards by the end of 2023.
Sak also said Lancets can be neutralized through electronic warfare measures. "Modern jamming equipment is a very important aspect of our anti-drone capability," he noted. "But we're badly lacking and looking to our allies, and hopefully one day we'll have more of it."
In an April interview with The Economist, Anton Gerashchenko, an adviser to the Ukrainian Interior Ministry, described the Lancet as "the most dangerous drone for us" and "very useful for destroying artillery."
In recent weeks, the Russian military has on numerous occasions reported the successful use of these types of UAVs, which have been used to destroy mortar teams, self-propelled artillery, tanks, and other heavy vehicles.
You can share this story on social media: