Man arrested for threatening Israeli PM
Local media reports that a letter was left on the grave of Benjamin Netanyahu's brother Yoni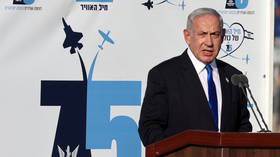 Israeli authorities have detained a man suspected of making threats to Prime Minister Benjamin Netanyahu. The 26-year-old reportedly left a letter on the grave of his brother Yoni on Friday.
In a joint statement on Saturday, police and the Shin Bet internal security service revealed that they had arrested a resident of the city of Kfar Saba. According to officials, the investigation was co-led by a police cybercrime unit, which subsequently took the suspect in for questioning.
Speaking on Friday, after the handwritten note was found in Jerusalem's Mount Herzl military cemetery, a senior Shin Bet official said that the security service "does not intend to let a deliberate threat against a prime minister that was placed on the grave of an Israeli hero pass." He also vowed to "handle the incident with all the tools" at the Shin Bet's disposal.
Local media reported on Sunday that the suspect admitted to placing the threatening letter on Yoni Netanyahu's grave.
Some outlets claim that the man has a history of mental health issues, with the authorities planning to conduct a psychiatric evaluation.
The message demanded that the prime minister seize Gaza, which Israeli forces left in 2005, and secure the release of Israeli hostages held there by the militant group Hamas. However, large sections of the letter reportedly address the late Yoni Netanyahu instead. "I was asked to inform your brother, Pee-Pee Netanyahu, that he has a little or a lot going for him, but it's over," the note reads, as quoted by Israeli media.
The message reportedly goes on to warn that the "clock is ticking backward," suggesting that the prime minister will not live to celebrate his 74th birthday in October. "Bibi [Benjamin Netanyahu's nickname], you are no better than [former PM Ariel] Sharon," the note reportedly continues, adding that "Sharon received a stroke and sank into an eight-year coma. To you I wish even worse things."
According to media reports, concluding the message is a clarification that "this is a threat of the first order," with "red alert level" written in English and accompanied by a smiley face.
Yonatan 'Yoni' Netanyahu was killed in 1976 during a notorious hostage rescue operation in Entebbe, Uganda. This was preceded by Palestinian and German terrorists hijacking an Air France flight from Tel Aviv to Paris and diverting it to the African country.
Benjamin Netanyahu has received several death threats in recent months amid his controversial judicial reform, which has caused months-long protests across the country.
You can share this story on social media: