Titan disaster caused by 'microcracks' – expert
The doomed submersible's carbon-fiber hull is believed to have failed under deep-ocean pressure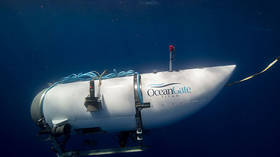 The implosion of the tourist submersible Titan shortly after its descent to the Titanic last month was likely due to microcracks in its carbon fiber hull that caused it to fail under repeated pressure, Plymouth University mechanical and marine engineering associate professor Jasper Graham-Jones told Business Insider on Friday.
While Graham-Jones has also considered that the small front viewport of the 21-foot sub could have given way as it descended to the wreck, he said recently-published photos and footage of the Titan's remains supported his initial theory, noting an absence of any large hull pieces among the debris. He said this was consistent with the hypothesis that repeat trips had created tiny cracks in the material, weakening it gradually while explaining how it had visited the Titanic in 2021 and 2022 without incident.
While the Titan's choice of materials was already controversial, OceanGate CEO Stockton Rush allegedly told the editor of Travel Weekly that he had used cut-rate carbon fiber sourced from aircraft manufacturer Boeing to save even more money, insisting it was safe because the shelf-life dates for the material were "set far before they had to be." While carbon fiber is lightweight and cheap, titanium is more typically used in deep-sea operations for its ability to better withstand the extreme pressures of the deep. Boeing has denied selling the material to the company or its CEO and rejected a claim previously featured on OceanGate's website that it had collaborated on the design of the vessel.
The Titan's viewport was only certified to withstand pressure up to 4,200 feet (1,300m) even though the sub intended to descend to 13,100 feet (4,000m). The Titanic rests 12,500 feet (3,800m) below sea level on the ocean floor off the coast of Newfoundland. When he learned of the discrepancy, former OceanGate employee David Lochridge said he urged his employer to pay for a more robust viewport and have it appropriately certified with a reputable agency, only to be fired for – he claims – blowing the whistle.
Debris from the wreck was brought ashore by the Canadian Coast Guard in Newfoundland earlier this week, giving experts and other observers a closer look at marine tourist company OceanGate's doomed craft.
The Titan lost communications with its mothership less than two hours after its launch on June 18, though the Canadian Coast Guard did not begin searching for it until the next day – by which time the sub had already imploded, as was later determined. Pieces of the submersible were finally located four days later by an underwater drone. All five passengers on board Titan were killed in the implosion, including Rush, who served as pilot, and four others who paid $250,000 each for the dive to the wreck of the Titanic.
You can share this story on social media: