Kosovo PM planning new attack on Serbs – Vucic
Albin Kurti views himself as "the new Zelensky," the Serbian president has said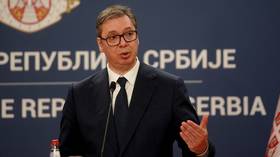 Kosovo's prime minister, Albin Kurti, is preparing to launch an attack against the province's Serb minority to coincide with a renewed counteroffensive by Kiev's forces in Ukraine, Serbian President Aleksandar Vucic warned on Sunday.
"Kurti just wants to be the new Zelensky," Vucic told reporters. "When the offensive of Ukraine starts, then you will see an additional offensive of Kurti in the Republic of Kosovo. I ask the people of the Republic of Kosovo to be careful, to just take shelter for a while. I am afraid that this terror will become even fiercer."
Tensions have run high in Kosovo since April, when ethnic Albanian mayors were elected in four majority-Serb towns in the province's north without Serb participation in the vote. Despite the mayors winning with a turnout of less than 4%, Kurti sent police and special forces to install them into office in May, backed by NATO forces. Riots broke out, with one brawl resulting in the injury of around 50 Serb demonstrators and 25 NATO personnel.
Despite rebukes and threats of sanctions from his US and EU backers, Kurti sent ethnic Albanian special forces into northern Kosovo to detain more than a dozen ethnic Serbs. Meanwhile, the Serbian authorities arrested several members of the Kosovo special forces on the Serbian side of the border with Kosovo.
Belgrade has since released the detained Albanians, yet Pristina has not released the arrested Serbs. Vucic has demanded that Kurti release them, as well as almost 100 others in custody for the last two years.
"I am afraid of Albin Kurti's completely irrational and anti-Serbian moves," Vucic said on Sunday. "I will do my best to prevent this from happening. But not at the cost of a pogrom of the Serbian people."
General Milan Mojsilovic, the head of the Serbian General Staff, called on NATO last month to prevent attacks on Kosovo's Serb population by Kurti's forces. Should the West fail to "protect the Serbs and their right to exist," Mojsilovic warned that the Serbian military would "carry out its mission to the fullest."
NATO took control of Kosovo in 1999, after waging a 78-day air war against Serbia on behalf of ethnic Albanian separatists. Though UN Security Council Resolution 1244 affirmed Serbia's territorial integrity, the provisional government in Pristina declared independence in 2008. Belgrade's refusal to recognize the secession has been supported by about half of the world's countries, including Russia, China, and India.
You can share this story on social media: