Rioters rampage through Swiss city
Saturday's unrest, apparently inspired by the disturbances in neighboring France, saw seven people arrested in Lausanne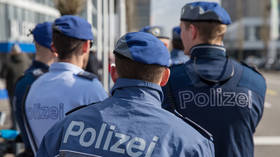 Swiss police have apprehended seven people after rioting broke out on Saturday evening in downtown Lausanne. This incident came amid ongoing mass unrest in neighboring France.
More than a hundred youths gathered in the city center, vandalizing shop windows, a door and a sign, Lausanne police stated in a press release.
About fifty officers were deployed to quell the unrest, with rioters responding by throwing stones and at least one Molotov cocktail.
There have been no reports of injuries.
Authorities in neighboring France have claimed that the wave of violence appeared to be declining on the fifth night of rioting. The interior ministry reported Sunday morning that 719 people had been detained overnight.
In L'Hay-les-Roses commune to the south of Paris, rioters torched the car of the local mayor and rammed their own vehicle into his house. He was not at home at the time of the attack; however, his wife and two children had to flee the property. The woman sustained unspecified injuries in the process, and is being treated at a hospital.
According to the local public prosecutor's office, an investigation into attempted murder has been launched in connection with the assault. Unverified footage has also begun circulating on social media, depicting rioters with what appears to be military-grade firearms.
French President Emmanuel Macron has postponed a planned visit to Germany due to the continuing unrest. Meanwhile, several European countries, including the UK, have issued travel advisories, recommending that their citizens avoid traveling to areas gripped by the violence.
The riots began on Tuesday night in the Paris suburb of Nanterre, after a police officer fatally shot 17-year-old pizza delivery driver Nahel M. during a traffic stop. While local prosecutors quickly arrested and charged the officer who fired the shot, that has not stopped the protests from spreading across the country and becoming increasingly violent.
You can share this story on social media: