Thirty people shot at US block party
The latest mass shooting, this time in Maryland, has left at least two people dead and 28 injured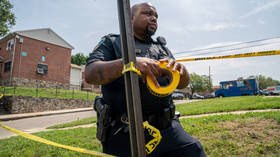 At least two people have been murdered and 28 wounded in a mass shooting at an outdoor party in Baltimore, Maryland – one of America's most violence-plagued cities.
Gunfire erupted shortly after midnight on Sunday at a residential block party in the Brooklyn Homes neighborhood on Baltimore's south side, where hundreds of people had gathered, police reported. An 18-year-old woman was found dead at the scene, and a 20-year-old man died after being taken to a local hospital.
Three of the injured victims were in critical condition as of Sunday morning. At least four people were reportedly treated in the University of Maryland Medical Center's pediatric emergency department, suggesting that they were children.
The unidentified perpetrators are still at large, police said. "This investigation is ongoing, and we will not rest until the people responsible are held accountable," Baltimore Mayor Brandon Scott said in a statement. He called the shooting a "cowardly, violent act" and vowed to continue cracking down on illegal gun possession on the city's streets.
Baltimore, located about 40 miles from the US capital, already has some of the tightest gun restrictions in the country, including new measures signed into law by Maryland Governor Wes Moore in May. Among large US cities, only New Orleans and St. Louis had higher murder rates than Baltimore in 2022. The city has had more than 300 murders for each of the past eight years, and police warned in April that violence involving teenagers is on the rise.
There have been 338 mass shootings in the US so far this year, according to the Gun Violence Archives, which defines such incidents as those in which four or more people are injured or killed by gunfire. About the same time that the Baltimore shooting occurred in the early hours of Sunday morning, seven people were shot and wounded at a nightclub in Wichita, Kansas. Two other victims were injured from being trampled as club goers fled the gunfire.
You can share this story on social media: