US reveals reason for Afghanistan exit debacle
An after-action report has blamed the failed evacuation from Kabul on the insistence of both Trump and Biden to quickly end the war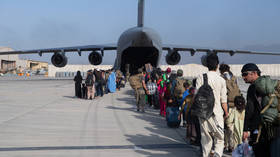 The US State Department released its long-awaited after-action report on the botched 2021 withdrawal from Afghanistan on Friday.
The assessment blamed the snafu primarily on the insistence of Presidents Donald Trump and Joe Biden on going ahead with a full military withdrawal. The decision to "end the US military mission in Afghanistan had serious consequences for the viability of the Afghan government and its security," it stated.
The loss of military "enablers" put Washington's diplomatic presence in the country at risk, while the departure deadlines set first by the Trump and then the Biden administrations were not accompanied by a sufficiently detailed exit plan, according to the report.
Failure to prepare for disaster scenarios compounded the difficulties. "Crisis preparation and planning" were lacking, the report stated, because the State Department did not want to send the wrong "signals" to its Afghan counterparts. "Anything that might suggest the United States had lost confidence in the Afghan government" was to be avoided lest it "contribute to its collapse," it explained.
No one, it suggests, could have predicted that the Afghan military – equipped with billions of dollars in US weapons and training – would lay down their arms almost immediately upon confronting the Taliban. They were expected to hold Kabul for "weeks, if not months."
The report slammed the decision to turn over Bagram Air Base to the Afghan government, pointing out that this left only Hamid Karzai International Airport available for evacuations. Opting not to halt the routine annual personnel rotation at the embassy was also highlighted as a failure, as the report noted that this increased confusion on the ground.
The report largely absolved the State Department from responsibility for what is widely considered the worst US foreign policy disaster since the US withdrawal from Vietnam, praising the department for its "great agility, determination, and dedication" in "unique," even "unprecedented" circumstances.
While admitting the embassy evacuation was poorly planned, the report stated that "once it got underway, the plan for closing the embassy compound and evacuating… proceeded well, considering the speed at which it was implemented." This, it complained, was "overshadowed by the scenes of chaos and panic that ensued as tens of thousands of Afghans sought desperately to flee the country."
It ended with a recommendation to "strengthen the department's overall crisis preparedness and response capabilities," with a dedicated office not subject to political concerns, and calls for minimizing the diplomatic presence on the ground in war zones, explaining the Covid-19 pandemic showed how many staffers can effectively work from home.
A State Department official refused reporters' questions on Friday regarding why the report's publication had been delayed and why it was released ahead of the long Independence Day weekend.
You can share this story on social media: