Ex-Zelensky aide blames West for counteroffensive failures
Kiev's backers have been too slow with arms deliveries, Aleksey Arestovich has said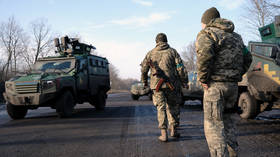 The West has failed to supply Ukraine with the weaponry required to achieve significant progress in its counteroffensive, a former adviser to President Vladimir Zelensky said on Saturday.
Speaking to Russian activist Mark Feygin, Aleksey Arestovich issued a stark rebuke of Kiev's Western backers, warning that delays in arms shipments allow Russia to win time to enhance its military capabilities. He added that he has "a lot of questions for our beloved allies."
"Why did you [Americans] prepare the counteroffensive in such a way and given such amount of weapons?... Maybe you were shepherding us towards negotiations from the very beginning?" he asked.
Another grievance is delayed shipments of F-16 fighter jets to Ukraine, Arestovich said. "If F-16s are basically approved, with pilot training already underway, why will they arrive in October or November, or even… in 2024, and why were they not provided in May before the decisive counteroffensive?"
Arestovich also commented on recent remarks by US Chairman of the Joint Chiefs of Staff Mark Milley, who said that Kiev's offensive would be "very bloody," adding that he was "not surprised" that it was proceeding slower than expected.
"The deep understanding by the US commander has rattled me to the core," Arestovich said. "The only question left to ask is: Where is the military assistance, required for accomplishing the tasks we had put forward?"
Ukraine started its much-hyped counteroffensive in early June, but all of its attacks have been repelled with heavy losses, according to the Russian Defense Ministry. Ukrainian President Vladimir Zelensky said that the offensive is developing "slower than desired" due to "tough resistance" from the Russians.
In late June, Mikhail Podoliak, a senior aide to Zelensky, also accused the West of being too slow with weapons deliveries, claiming that this allowed Moscow to set up formidable defenses.
Last month, the Financial Times reported that Western officials believe the Ukrainian counteroffensive has so far been unsuccessful, noting that further military assistance hinges on its eventual outcome.
You can share this story on social media: