France enters race for co-manufactuing fighter jet engines in India
The Macron government has reportedly allowed French defense major Safran to transfer key technology to New Delhi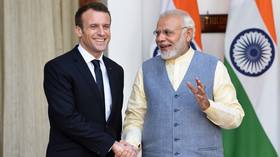 Ahead of Indian Prime Minister Narendra Modi's visit to Paris and mere weeks after his trip to Washington, where he discussed a major deal for the co-production of F-414 engines to power indigenous Tejas Mark II fighter aircraft, France has reportedly made a counteroffer.
According to the Hindustan Times, French defense major Safran has been given a green light by President Emmanuel Macron's government to jointly design, develop, test, manufacture, and certify an engine with India. It will be used to power New Delhi's indigenously produced twin-engine advanced multi-role combat aircraft, as well as a naval version for aircraft carriers.
The potential deal includes the 100% transfer of technology by Safran, the report noted. It said the chief of the Defence Research and Development Organisation, Samir V. Kamat, paid a special visit to the Safran engine factory and its R&D center near the French capital while attending the 2023 Paris Air Show.
France's offer, according to HT, includes a completely new engine, new materials, new architecture, full supply chains, and ancillary manufacturing based in India. Safran will also set up a center of excellence in gas turbine technology with full design and metallurgical precision software tools. Safran engines power the helicopters made by Hindustan Aeronautics Limited (HAL) and the two companies have reportedly agreed to jointly develop an engine for Indian multi-role helicopters, the newspaper said citing sources familiar with the deal.
Safran is already building a $150 million facility for the maintenance, repair, and overhaul of engines for A320 and Boeing 737 airliners in Hyderabad, to be made operational by 2025. Meanwhile, American defense major GE Aerospace signed a memorandum of understanding with HAL during Modi's recent US trip. The memo outlines that GE's F414 engines, known for powering the Boeing Super Hornet and Saab Gripen, will be co-produced in India to power its Tejas Light Combat Aircraft MK2. That deal also includes 100% transfer of technology, pending approval by the US Congress.
Prime Minister Modi is scheduled to visit France on July 13 to attend Bastille Day celebrations. He is expected to hold bilateral talks with President Macron on the same day. Symbolically, the Indian Air Force's Rafale fighter, acquired by New Delhi in 2016, will be participating in the annual military parade on July 14.
You can share this story on social media: