Biden's Iran envoy under investigation – CNN
Rob Malley had his security clearance revoked earlier this year for allegedly mishandling classified documents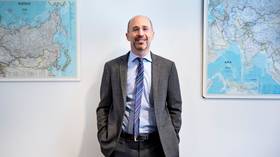 US President Joe Biden's special envoy to Iran, Rob Malley, has been placed on unpaid leave while he is being investigated for alleged mishandling of classified documents, CNN reported on Thursday. Little is known about the investigation, but Malley's sidelining could imperil efforts to revive the Iran nuclear deal.
His absence was first noted in May, when he missed a Senate briefing on Iran. At the time, the State Department explained that the envoy was on personal leave due to an illness in his family.
However, an unnamed US official told CNN that Malley had his security clearance suspended earlier this year and was being investigated for possibly mishandling classified information. Another anonymous source said that Malley was placed on unpaid leave on Thursday afternoon.
He confirmed the reports later that day, telling multiple US media outlets that he was on leave, but had not been "provided any further information."
Malley was one of the key architects of the 2015 Joint Comprehensive Plan of Action, or Iran nuclear deal, which saw Tehran agree to limit its uranium enrichment in exchange for limited sanctions relief. Although the deal was scrapped by President Donald Trump in 2018, Malley was appointed special envoy to Iran by Biden in 2021, and has since led back-channel negotiations aimed at restoring the agreement, or coming to some alternate arrangement.
Israeli officials, who vehemently oppose a return to the 2015 deal, have long accused Malley of being a soft touch on Tehran. Among other complaints, they have pointed to his willingness to meet with figures like Amir Saeid Iravani, Iran's ambassador to the UN who has repeatedly stated the Islamic Republic has a right to respond with force to Israeli drone attacks.
In the US, Republican lawmakers have also opposed a return to the deal, favoring stiffer sanctions and military threats over diplomacy with Tehran. On Friday, Republican House Foreign Affairs Committee Chairman Michael McCaul wrote to Secretary of State Antony Blinken, demanding further information on Malley's suspension so his panel could conduct "oversight on Iran negotiations and policy." In his letter, McCaul referred to Malley's outreach to Tehran as "troubling."
You can share this story on social media: