UK, Canada, and Australia slam Israel
Benjamin Netanyahu's government has approved the construction of 5,700 new homes in the occupied West Bank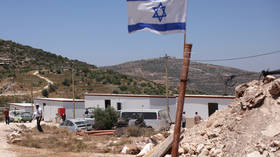 Australia, Canada and the UK have rebuked Israel over its decision to create thousands of new settlement units in the West Bank. They also decried a surge of violence between Israelis and Palestinians.
In a highly unusual joint statement on Saturday, the foreign ministers of the three countries said they were "gravely concerned" over Israel moving ahead with over 5,700 new homes in the occupied territories. The settlements are widely considered to be illegal.
"The continued expansion of settlements is an obstacle to peace and negatively impacts efforts to achieve a negotiated two-state solution," the statement read, calling for Israel to reverse the decision.
The ministers said they were also "deeply troubled" by ongoing violence in the region. In particular, they referred to a deadly gun attack by two Palestinians on Israelis near the settlement of Eli in the West Bank, which claimed the lives of four people, including a teenage boy.
At the same time, Australia, Canada, and the UK also condemned "the reprehensible and ongoing settler violence targeting Palestinians."
Last month, in response to the Eli shooting, Israeli Prime Minister Benjamin Netanyahu said that his country would authorize the construction of 1,000 new homes in that town alone.
Later, Israeli authorities also announced that they were planning 5,700 other new units in the West Bank. The move triggered condemnation from the US, with a State Department spokesman describing the new dwellings as "an impediment to a negotiated two-state solution."
Israel occupied the West Bank during the 1967 Six-Day War and began to build new settlements in the territory. The UN Security Council has declared those actions to have "no legal validity" and to constitute "a flagrant violation under international law." However, Israel disputes that position.
Under the government of Netanyahu, Israel has ramped up efforts to expand settlements, triggering an international uproar. Critics claim the prime minister's policies undermine any attempt at resolving the decades-old Israeli-Palestinian conflict through the establishment of two separate states.
You can share this story on social media: