Ukraine warns against 'repeating Merkel's mistake'
It would be "suicidal" to reject Kiev's bid to join NATO, Foreign Minister Dmitry Kuleba said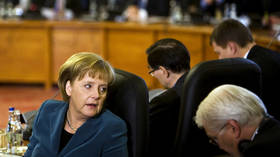 NATO should draw lessons from the past and not shelve Kiev's aspirations to join the alliance, as it did 15 years ago at the behest of former German Chancellor Angela Merkel, Ukrainian Foreign Minister Dmitry Kuleba said on Friday.
"Do not repeat the mistake Chancellor Merkel made in Bucharest in 2008 when she fiercely opposed any progress towards Ukraine's NATO membership," the minister argued in an interview with Axel Springer media group in Berlin.
In 2008, NATO states decided against providing Ukraine with a Membership Action Plan (MAP), a roadmap to becoming a full-fledged member of the US-led military bloc. Merkel, who retired from politics in 2021, has since defended her opposition to granting the MAP to Ukraine and has refused to denounce her past policies towards Russia.
Kuleba insisted that "after the war ends, it will be suicidal for Europe not to accept Ukraine into NATO because it will mean that the option of … war will remain open." Ukraine formally applied to join NATO in September 2022, months after Russia launched its military operation in the neighboring state.
Kuleba's comments come ahead of a NATO summit that is scheduled to take place in mid-July in Vilnius, Lithuania. Ukrainian officials said that President Vladimir Zelensky would not attend the event unless Kiev is provided with a concrete path to membership.
"What we are asking for is to start the procedure," Igor Zhovkva, one of Zelensky's aides, said recently.
Russia has opposed NATO membership for Ukraine, listing Ukraine's neutrality as one of the conditions for a lasting peace between the two countries. Moscow has repeatedly said that it views NATO's expansions to the east as a threat to its security.
You can share this story on social media: