Military planes collide mid-air in Colombia (VIDEO)
A pilot has been killed in the crash, the Air Force said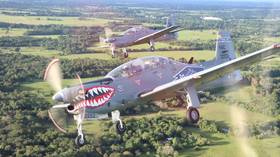 Two Colombian Air Force T-27 Tucano planes collided mid-air during a training flight near Apiay Air Base on Sunday, the military said.
According to a statement released by the Air Force, one pilot, a lieutenant colonel, has died.
"An inspection commission was sent to the scene of the incident in order to determine the causes [of the collision]," it said.
A video uploaded to social media supposedly shows the moment of the incident. Several aircraft are seen flying close to each other, and at one point, a wing of one of the planes bursts into bright flames.
Se accidentaron dos aviones de entrenamiento T-27 Tucano de la Fuerza Aérea a las 5:30pm en Apiay. El Teniente Coronel Mario Andrés Espinoza falleció. Todo nuestro apoyo a la familia. pic.twitter.com/CKhejJSOoE

— Steph Bates Prensa (@StephBatesPress) July 2, 2023
The pilots were reportedly practicing for a July 20 airshow in the city of Rionegro. The T-27 is a version of the Embraer 312 Tucano turboprop light attack aircraft.
You can share this story on social media: