Hundreds face axe from liberal Soros NGO
A global charity run by the billionaire will cut at least 40% of its staff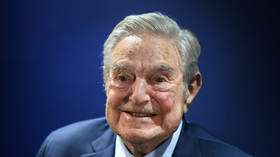 The non-profit organization Open Society Foundations run by billionaire philanthropist George Soros is laying off much of its staff as part of a reorganization.
The process includes "a substantial reduction in headcount of no less than 40% globally," a spokesperson told US news agencies. The charity employed more than 500 people as of the end of 2021, according to Bloomberg.
On Friday, the nonprofit's board of directors released a statement, announcing "significant changes" to the operating model "intended to maximize Open Society's impact in helping to counter the forces currently threatening open and free societies."
Soros, 92, is in the process of handing over control of his $25 billion empire to his 37-year-old son, Alexander. The younger Soros told the Wall Street Journal last month that his views are similar to his father's, and that he is "more political."
Soros, who made his fortune in finance and hedge-fund managing, has championed various liberal and progressive causes at home and abroad, which has often drawn criticism from conservatives.
Countries such as Russia and Hungary have accused Soros of meddling in their domestic affairs. In 2015, Russia banned several Soros-affiliated NGOs as "undesirable" organizations.
You can share this story on social media: