Musk explains new Twitter limits
The "temporary" restrictions have already proven unpopular with users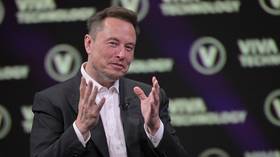 Twitter owner Elon Musk announced on Saturday that users of the platform will be limited to viewing a maximum of 8,000 posts per day, claiming that the measure would cut down on "data scraping and system manipulation."
Musk's announcement came hours after Twitter users around the world found themselves unable to view their timelines or read comments under tweets.
"To address extreme levels of data scraping & system manipulation, we've applied the following temporary limits," Musk tweeted, explaining that verified accounts would be limited to reading 6,000 posts per day, unverified accounts to 600 posts per day, and new unverified accounts to 300 per day.
Shortly afterwards, Musk posted an update saying that the limits would be increased to 8,000, 800, and 400 respectively. He did not say for how long the "temporary" limits would remain in force.
Since purchasing Twitter for $44 billion last October, Musk has repeatedly promised to clamp down on non-human use of the platform, for example by data-mining companies. As of Friday, Twitter has not been viewable to anyone without an account, a decision that Musk said was made as "several hundred organizations (maybe more) were scraping Twitter data extremely aggressively, to the point where it was affecting the real user experience."
Concurrently, Musk has been encouraging users to shell out for verification, which costs $8 per month. The prospect of ten times more tweets, however, has not gone down well with users, and as of Saturday evening, "#RIPTwitter" and "Goodbye Twitter" were trending topics in the US.
American whistleblower Edward Snowden explained that he could no longer use Twitter effectively as, for security reasons, he often browses the platform without logging in. Other users who follow breaking news stories on Twitter – for example updates from the conflict in Ukraine – complained that even when verified they burn through their allocated tweets in a matter of hours.
It remains unclear whether Musk will keep the new restrictions in place. Shortly after purchasing Twitter last year, the billionaire said that he would end up doing "lots of dumb things" in his bid to overhaul the platform, and would "keep what works and change what doesn't."
You can share this story on social media: