Kiev must show 'battlefield results' in next ten days – Zelensky
Western officials reportedly believe Ukraine's offensive is not going well, with further assistance hinging on its outcome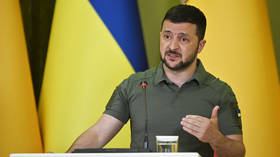 Ukraine wants to make some progress on the battlefield in its counteroffensive against Russia before the upcoming NATO summit, President Vladimir Zelensky said on Friday, although he admitted that this would lead to new losses.
Speaking to several Spanish media outlets, the Ukrainian leader stated that Kiev has to "show results" before NATO leaders convene in Vilnius, Lithuania, on July 11, adding that "every kilometer costs lives."
Zelensky noted that "torrential rains… slowed down some processes quite a bit" and reiterated calls for Kiev's Western backers to continue sending arms to Ukraine. He also claimed that Ukraine's offensive operations conducted last autumn were undermined by the late arrival of artillery.
"We stopped because we couldn't advance. Advancing meant losing people and we had no artillery," he explained. "We are very cautious in this aspect. Fast things are not always safe."
The Ukrainian president also reiterated his long-standing demands that Kiev eventually be admitted to NATO. "NATO without Ukraine is not NATO," he stated, claiming that there were no other armies on the continent like Ukraine's that had the same battlefield experience.
Zelensky's comments come after Igor Zhovka, a deputy head of the president's office, warned that the Ukrainian leader could skip the NATO summit altogether if the bloc did not make a serious commitment to Kiev's accession. Earlier, Jens Stoltenberg, the head of the US-led military bloc, stated that any discussions about Ukraine's membership could start only on the condition that it prevails over Russia.
Ukraine launched a large-scale offensive against Russian positions in early June but has failed to gain any ground and has suffered heavy losses, according to the Russian Defense Ministry. Zelensky himself has admitted difficulties, saying that the offensive is proceeding "slower than desired" in the face of "tough resistance" from Russian troops.
According to a Financial Times report from earlier this week, Western officials have been unimpressed by Ukraine's performance on the battlefield, with the paper's sources noting that long-term Western support for Kiev is contingent on the eventual outcome of the offensive.
You can share this story on social media: