US media giant fires managers who ordered 'balanced' news
Nexstar has axed two staffers at a Michigan NBC affiliate for directing reporters to tell "both sides" of Pride Month stories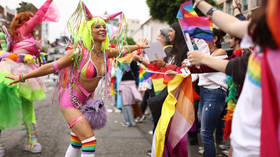 Two managers at the NBC News affiliate in Grand Rapids, Michigan, have lost their jobs for daring to tell staffers to provide unbiased coverage of Pride Month events and suggesting that stories related to LGBTQ issues could be "polarizing" for the station's largely conservative audience.
WOOD-TV news director Stanton Tang and his deputy, Amy Fox, were fired on Thursday following a two-week investigation by the outlet's parent company, Nexstar Media Group, according to multiple media reports. Two other newsroom employees – executive producer Luke Stier and producer Madeline Odle -- were jettisoned after Nexstar concluded that they had leaked the internal coverage memo that led to the controversy.
Texas-based Nexstar is the biggest US operator of broadcast television outlets, boasting 200 stations around the country.
The row at WOOD-TV began earlier this month, when Tang directed Fox to write and distribute a memo on the station's coverage of Pride Month events. The memo warned that some reports on Pride-themed events "are going to be controversial and polarizing in our community," adding that "while you personally may not agree with a certain position, people are entitled to their opinions, and they are our viewers."
Tang's directive noted that not every Pride Month event needed to be covered, and it urged employees to be "thoughtful" about which stories they chose to pursue. "We need to do some work to discern the newsworthiness of the event. If we are covering Pride events, we need to consider how to make the story balanced and get both sides of the issue."
Several WOOD-TV staffers walked out when the memo was distributed on June 13. Stier took to Twitter two days later, saying, "This memo was met with immediate pushback from our newsroom. The guidance is not being followed." News anchor Michele DeSelms replied by saying staffers were essentially being required to "give equal time to hate and discrimination." She added, "We said no and will continue to fight for our LGBTQ colleagues, family members, friends and the community."
Nexstar spokesman Gary Weitman released a statement earlier this month apologizing for the memo and saying that it was not consistent with the company's values. "Diversity, equity and inclusion are among Nexstar's core values," he said. "Our local TV stations are expected to cover and report the news of the day in an expansive and inclusive fashion, consistent with these values."
You can share this story on social media: