Russian senator fears for safety of French nuclear arsenal 
Andrey Klishas' remark comes amid riots in France, echoing those made by Western commentators over the Wagner coup attempt last week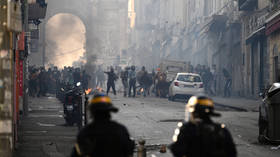 The ongoing violence on the streets of French cities gives grounds for concern over the safety of the country's nuclear arsenal, Russian senator Andrey Klishas has suggested. Last week some Western commentators voiced similar worries over the security Russia's own weapons amid a failed coup attempt by PMC Wagner.
In a series of posts published on his Telegram channel on Saturday, Klishas argued that calls should be made for the "French police to exercise restraint."
"EU leaders [should] discuss the stability of the political regime in France and check whether the nuclear arsenal is safe," the politician wrote.
Klishas also pointed out that the French "people didn't go onto the streets to defend Macron's regime."
These seemingly tongue-in-cheek messages mirror some of the talking points put forward by Western observers and some politicians a week ago during the abortive rebellion led by Evgeny Prigozhin.
The mutiny that began late last Friday was over by the end of Saturday after the Russian government and Prigozhin reached an agreement, brokered with the help of Belarusian President Alexander Lukashenko.
French media reported that the rioters broke into a hunting shop in the southern city of Marseille overnight, stealing several firearms. According to BFMTV, police arrested one person who had a stolen shotgun.
While the French government has deployed some 45,000 police, armored vehicles, and helicopters to quell the unrest across the country, Marseille has called for still more reinforcements.
Violent scenes have been playing out in Paris, as well as in Ales, Lyon, and Bonneuil. Youth gangs have been seen attacking police precincts, vandalizing shops, and setting fire to cars.
President Macron, who had to return early from an EU summit in Brussels on Friday, revealed that over 2,000 vehicles had been destroyed and approximately 500 buildings damaged.
Interior Minister Gerald Darmanin said that a total of 917 suspected rioters had been detained by police, most of them in their teens – some as young as thirteen.
The riots began on Tuesday night in the Paris suburb of Nanterre, after a police officer fatally shot 17-year-old pizza delivery driver Nahel M. during a traffic stop. After Nahel's mother called for "vengeance," local prosecutors quickly arrested and charged the officer who fired the shot with homicide. However, that has not stopped the protests from spreading further and becoming increasingly violent.
You can share this story on social media: