Kiev considering 'holding Crimea hostage' – WaPo
Ukraine reportedly plans to use the Russian peninsula as leverage in negotiations with Moscow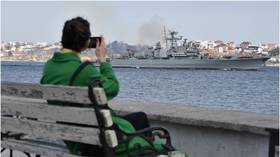 Ukrainian officials aim to station long-range weapons near Crimea in order to gain the upper hand in future peace negotiations with Russia, the Washington Post reported on Friday, citing three people familiar with the matter.
According to the Post, the Ukrainian leadership shared the plans with CIA head William Burns during his secret trip to Kiev last month, where he met with President Vladimir Zelensky.
Zelensky and his aides are reportedly devising plans to end the fighting "on terms that are acceptable to Russia and the Ukrainian people." To achieve this, they hope to gain leverage over Moscow by retaking "substantial territory by the fall," and, "in an ideal scenario," station artillery and rocket systems on the border with Crimea, where the headquarters of Russia's Black Sea Fleet is located.
By "holding hostage" the peninsula, Kiev wants to "open negotiations" and demand that "Russia accept whatever security guarantees Ukraine can secure from the West," the Post said.
Ukraine's top commander, General Valery Zaluzhny, has voiced frustration over criticism of the much-hyped counteroffensive, which was launched last month, but has so far failed to push back the Russians in any significant way.
According to Moscow, multiple Ukrainian assaults were repelled, while Kiev's forces suffered heavy losses. The troops lost Western-supplied heavy tanks and combat vehicles to minefields and artillery fire as they tried to break through fortified Russian positions.
Peace negotiations between Russia and Ukraine broke down in the spring of 2022. Kiev has since demanded that Russia surrender its four newly acquired regions, as well as Crimea, which Moscow stressed was non-negotiable. Russia also listed Ukrainian neutrality as one of the requirements for the conflict to end.
Crimea voted to join Russia in the wake of the 2014 Western-backed coup in Kiev. The regions of Donetsk, Lugansk, Kherson, and Zaporozhye did the same after holding referendums in September 2022. Ukraine considers these territories illegally occupied by Russia.
You can share this story on social media: