Russia will destroy foreign fighters and Western generals in Ukraine – Lavrov
The minister accused foreign militants of using civilian infrastructure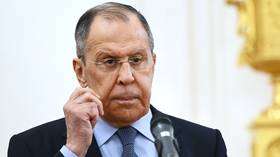 Russian Foreign Minister Sergey Lavrov has accused Ukraine of allowing foreign mercenaries and Western generals to use civilian infrastructure to fight against Russia, and has vowed to destroy these groups.
Speaking at an online briefing on Friday, Lavrov said that Russia has "not seen confirmation of a single fact of deliberate shelling of civilian targets by the Russian army." He claimed, however, that the Ukrainian side has been "violating international humanitarian law and committing a war crime by allowing mercenaries, Western generals and instructors to use civilian objects to hold all sorts of meetings."
"If we discover such gatherings, for example, as in Kramatorsk, we will destroy them, because these are people who have declared war on us," Lavrov said, referring to Russia's recent high-precision strike on a temporary brigade base in the Donbass city of Kramatorsk on Tuesday.
The Russian Defense Ministry had claimed that the base was hosting a staff meeting involving dozens of Ukrainian officers and foreign advisers, and reported that the attack resulted in the deaths of "two generals, up to 50 officers of the Ukrainian Armed Forces, as well as up to 20 foreign mercenaries and military advisers."
Russian forces have continued to repel Ukrainian attacks on their defensive positions in Zaporozhye and Kherson Regions, as well as in Donbass, since Kiev launched its much-hyped counteroffensive earlier this month.
Ukraine has so far been unable to make any significant gains and has suffered numerous casualties, losing hundreds of servicemen and dozens of heavy equipment, including tanks and infantry fighting vehicles provided by Kiev's Western backers, according to numerous media reports.
You can share this story on social media: