Germany seizing private Russian cars – RBK  
Сustoms officials have reportedly impounded several vehicles, citing EU sanctions against Moscow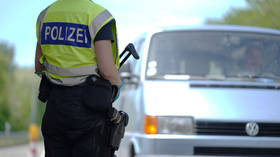 German customs officials have impounded several cars with Russian license plates, citing the EU's sanctions against Moscow, Russia's RBK has reported. Legal experts who spoke to the media outlet suggested that the authorities had misinterpreted the bloc's punitive measures.
In an article on Sunday, RBK cited the case of Russian national Ivan Koval, who is residing in Germany. Koval recounted how his car was seized on June 1, with customs officials explaining that "starting from October of 2022 the entry of cars with Russian license plates into the EU has been prohibited."
When he argued that he was not responsible for Russia's actions in Ukraine, the Russian was told that the ban applies to all such vehicles without exceptions.
Having read the piece of legislation in both English and German, Koval started suspecting that the fact that a single verb is used in German to denote 'import' and 'bring in' as well as 'export' and 'bring out' played a role. He also noted that he had no problem driving his vehicle though Latvia, Lithuania, and Poland. Koval surmised that German officials had simply erred on the side of interpreting the regulations literally.
Russia's Fontanka media outlet earlier reported that a Russian family traveling in their car across Europe found themselves in a similar situation. Their car was reportedly impounded in the vicinity of Hamburg while on its way to Finland.
When asked for comment by Russia's TASS media outlet, Germany's customs service insisted that a number of goods, including cars are "prohibited from being directly or indirectly bought, brought into the EU and transited."
Russian lawyer Sergey Glandin told RBK that these cases appear to be rooted in a deep misinterpretation of the EU's sanctions.
He pointed out that there is a distinct difference between simply bringing a vehicle and importing one into the bloc.
Vladislav Starzhenetsky, an assistant professor of international law at Russia's Higher School of Economics, also argued that confiscating cars with Russian license plates seems to be a case of a "very original interpretation of the European sanctions."
"The impoundment of an automobile in this case looks like a fundamental violation of private property rights," Starzhenetsky concluded, adding that there are plenty more such "gray zones" when it comes to the EU's sanction legislation.
The punitive measures are part of the numerous sanction packages the EU has imposed on Russia since February 24, 2022, in response to its military operation in Ukraine.
You can share this story on social media: