Modi Cabinet may see a rejig ahead of 2024 elections
Indian media is buzzing about a potential reshuffle at the Council of Ministers meeting on Monday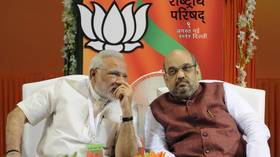 The corridors of power in New Delhi have been abuzz with excitement about a potential cabinet reshuffle by Indian Prime Minister Narendra Modi. The prime minister has called a meeting of his Council of Ministers for Monday, July 3, which heightened speculation of a re-organization on or before July 20, the day parliament's monsoon session begins.
The excitement peaked following a series of meetings attended by the ruling Bharatiya Janata Party's (BJP) top brass last week. Speculation abounds over the potential cabinet expansion.
While it is likely that several new faces will be introduced, focus is on ministers who might be removed and those who may be given new responsibilities.
The Modi administration last reshuffled its cabinet in July 2021. In an unprecedented move, the first since Modi took charge for a second term in May 2019, 12 ministers, including six heavyweights, were removed and 43 new ministers installed. This time, the BJP is reportedly seeking to give more representation to ministers from states with upcoming elections, in line with its 2021 reshuffle, which was done with an eye on regional elections in Gujarat and Uttar Pradesh.
A raft of organizational changes is reportedly being planned by the BJP ahead of five state elections slated to be held in November. The changes are expected to strike a fine balance between India's diverse groups, where caste and faith play a major role in representative parliamentary democracy and remain a key factor in electoral prospects.
India's minister for home affairs, Amit Shah, BJP President JP Nadda, and the party's general secretary, BL Santhosh, met with Modi last Wednesday, holding a marathon five-hour brainstorming session where changes in party organization and the government purportedly topped the agenda. The strategies for next year's crucial general elections were also discussed in the meeting.
The BJP, which last time won 303 out of 543 seats in the Lok Sabha, the lower house of parliament, has decided to divide constituencies into three distinct zones – north, east, and south. The ruling party is the strongest in the north – known as the Hindi heartland – and a zonal strategy meeting will be held over the next few days. The party leadership seeks to infuse more energy into its organizational strength as it gets ready for next year's Lok Sabha battle.
The proposed changes are also likely to be carried out ahead of key state elections in Madhya Pradesh (MP), Rajasthan, Chhattisgarh, Telangana, and Mizoram, and in light of the party's previous electoral reverses in Karnataka. Barring MP, all the other states are ruled by opposition parties. Rajasthan, Chhattisgarh, and Madhya Pradesh make up 65 Lok Sabha constituencies, of which the saffron party won 58 seats in 2019.
Modi is known to make changes in the cabinet when it is least expected. The sudden removal of Kiren Rijiju as India's federal minister of law and justice in May, to be replaced by Arjun Ram Meghwal from Rajasthan (which will have an election this year), followed the former's standoff with the country's judiciary.
While the BJP has officially refused to comment on the speculation, a senior party functionary told RT on condition of anonymity that it is the prerogative of the prime minister to go for a cabinet reshuffle and all bets are off the table. "The PM is likely to choose his own moment and is typically known to spring a surprise," he said.
You can share this story on social media: