Supreme Court spikes Biden's student loan amnesty
The US president has promised to offer borrowers relief through other programs, but the clock on repayment restarts in September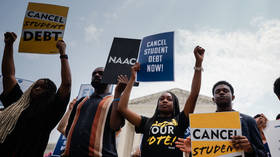 The US Supreme Court blocked President Joe Biden's effort to cancel $430 billion in student loan debt on Friday, ruling the White House did not have the authority to unilaterally forgive the educational debts of 26 million Americans under the Covid-19 emergency loan forgiveness program his lawyers had cited.
The court ruled 6-3 in favor of six Republican-led states that sued the White House for overstepping its authority under federal law with the debt forgiveness plan it unveiled in August. The votes were split along ideological lines with the three liberal judges dissenting.
Writing for the majority, Chief Justice John Roberts rejected the administration's claim that the program was merely a "modification" of the existing Covid-19 emergency loan program and thus authorized under a 2003 law allowing the education secretary to "waive or modify" student financial aid during national emergencies.
"The [Secretary of Education's] plan has 'modified' the cited provisions only in the same sense that the French Revolution 'modified' the status of the French nobility – it has abolished them and supplanted them with a new regime entirely," Roberts wrote, explaining congressional approval would be required for the changes to be carried out – a non-starter even before Republicans took control of the House in the midterms.
Biden condemned the court's decision as "wrong" and "a mistake," and promised relief was still coming in the form of the Higher Education Act. That 1965 law allows the education secretary to "compromise, waive, or release any right, title, claim, lien, or demand, however acquired," even in the absence of a national emergency.
While the administration has promised to move "as quickly as possible," the new program could take until the end of the year to set up, meaning that in September, about one in every eight Americans must return to making loan payments they have been spared since the pandemic.
Biden revealed a set of stopgap measures on Friday, including a decrease in monthly payments from 10% of discretionary income to 5% and loan forgiveness for any borrower with less than $12,000 in unpaid balance after ten years of payments. An "on-ramp repayment program" would protect financially-struggling borrowers from the threat of collection agencies and trashed credit scores during a one-year grace period. The White House has nevertheless urged those who can to repay their loans.
The president's original student loan forgiveness program, touted as a central plank of his 2020 campaign platform, would have canceled up to $20,000 in federal Pell Grants and $10,000 in other loans for all borrowers making less than $125,000 annually. Opponents of the program argued it unfairly punished those who had responsibly paid back what they borrowed.
You can share this story on social media: