Kiev lashes out at Orban
The Hungarian PM's assessment that Ukraine is bound to fail in the conflict with Russia is "pointless" talk, Dmitry Kuleba has said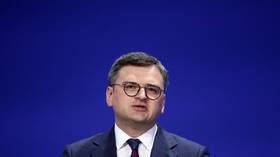 Ukrainian Foreign Minister Dmitry Kuleba has dismissed remarks made by Hungarian Prime Minister Viktor Orban earlier this week about Kiev's lack of prospects in the conflict with Moscow as "pointless" talk. Orban had declared that a Ukrainian victory was "impossible" and that the belief that continuous Western aid to the country would somehow change the outcome was "a misunderstanding of the situation."
Speaking to the German tabloid Bild in an interview published on Saturday, Kuleba firmly rejected Orban's assessment.
"I'm tired of refuting these pointless arguments. We've been hearing from the beginning that Ukraine is doomed. Every time we're successful on the battlefield, those voices get quieter, but then they come back. It's all just blah, blah, blah," Kuleba stated, adding while Kiev is moving towards "victory," people like Orban are merely advancing their "narratives."
The Hungarian prime minister has been a vocal critic of Western military and financial aid to Ukraine and sanctions on Russia. Speaking to Bild earlier this week, Orban reiterated his call for a ceasefire between Russia and Ukraine, which he believes is the only way to avoid the loss of "a huge amount of wealth and many lives, and unimaginable destruction" being inflicted on Ukraine.
"I stand on the grounds of reality. The reality is that the nature of cooperation between Ukraine and the West is a failure," Orban stated, adding that believing that weapons, funding and intelligence support provided to Kiev would allow it to win was "a misunderstanding of the situation."
Hungary has taken an explicitly neutral stance on the conflict between Russia and Ukraine. Unlike most EU and NATO members, the country has refused to provide any military aid to Kiev and has even prohibited the flow of arms from third parties to Ukraine through its territory.
Budapest has also consistently opposed the EU's sanctions on Russia, particularly those that damage its own vital interests, such as the restrictions on the conventional and nuclear energy sectors. Hungary has insisted that the measures have failed to reach their proclaimed goals, ultimately harming the EU more than Russia.
You can share this story on social media: