Spain pledges four tanks to Ukraine
Kiev's forces reportedly lost nearly twice that amount in several hours earlier this month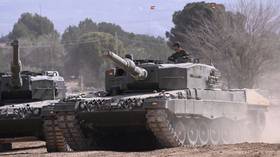 Spanish Prime Minister Pedro Sanchez pledged on Saturday to supply Ukraine with four additional Leopard battle tanks. Large numbers of the German-made tanks have already been destroyed by Russian forces during Ukraine's ongoing counteroffensive.
Speaking in Kiev, Sanchez promised that "Spain will soon deliver new military hardware to help [Ukraine] in the war, including four Leopard tanks and armored personnel carriers," according to Ukrainian media outlets. Sanchez said that his government would also supply a mobile field hospital and continue training Ukrainian surgeons to treat battlefield casualties.
Spain promised ten Leopard 2A4 tanks to Ukraine back in February, and shipped the first six in April. Earlier this month, Spanish Defense Minister Margarita Robles said that the remaining four Leopards would be sent as soon as they had been taken out of storage and refurbished.
Manufactured between 1985 and 1992, the Leopard 2A4 is the most common variant of the German-made tank in service today, but its capabilities have been eclipsed by the newer Leopard 2A6 and 2E.
Before Kiev launched its counteroffensive against Russian forces earlier this month, Ukrainian propaganda touted the superiority of the Leopards, claiming that these German behemoths would punch through Russia's defensive lines and cut the land bridge between Russia and Crimea in two.
The offensive has not gone according to plan. As of late-June, Russia's National Security Council estimated Ukraine's losses at 13,000 troops, while Russian President Vladimir Putin claimed on Tuesday that Kiev had lost 259 tanks and 780 armored vehicles since the start of the advance, without any significant territorial gains.
Successive videos of burning Leopard tanks have shaken Ukrainian morale, with Germany's Der Spiegel magazine reporting last month that Ukrainian tank crews have been faking damage to their vehicles to avoid going into combat with Russian forces. In a single attack on June 8, Ukrainian forces lost seven Leopard tanks, 17 American Bradley infantry fighting vehicles, and one German Wisent recovery vehicle, Forbes magazine reported earlier this week.
While Spain's four Leopards are unlikely to alter the balance of power on the battlefield, the prime minister's trip was more focused on political rather than military aid. In a joint statement with Ukrainian President Vladimir Zelensky, Sanchez said that Spain would make Ukraine's bid for EU membership a top priority during its presidency of the Council of the European Union for the next six months.
You can share this story on social media: