Biden embraces Modi as the US intensifies its fight against Russia and China
A flurry of lucrative deals outlined during the Indian PM's US visit as Washington tries to woo New Delhi to abandon its diplomatic balancing act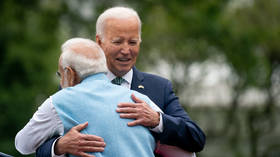 India has opted for a tight embrace with the US during Prime Minister Narendra Modi's first state visit to the country, where potential economic gains appeared to outweigh its age-old ties with traditional ally, Russia.
Modi, during a joint address to the press corps at the White House after his one-on-one meeting with US President Joe Biden on Thursday, sprung a surprise.
Unprompted, he made reference to Russia's ongoing military operation, which entered its second year on February 24.
Modi offered India's help to resolve the conflict and restore peace, while stopping short of naming Russia as the aggressor. The comment was music to President Biden's ears, whose usual impassive expression could not contain his uncontrolled glee.
Modi lapped up lavish praise from the Biden administration, as expectations of Indo-US ties "reaching escape velocity" rent the air and the Indian PM heightened the hyperbole by adding that the "sky is not the limit" in the bilateral engagement.
And, Russia did not top the agenda until Modi, as if on cue from Biden, spoke about the conflict with Ukraine.
It was abundantly clear that the US had laid out a red carpet for Modi in a bid to isolate New Delhi from Moscow, with bountiful incentives and path-breaking new partnerships in the defense, semiconductor manufacturing, space and artificial intelligence sectors. A liberalization of the strict H1B visa regime, as well as the opening of US consulates in Ahmedabad and Bengaluru and an Indian consulate in Seattle are also on the cards.
In a quid pro quo, placating India suited the US cause. Washington is looking to strengthen its crucial – albeit complicated – ties with the country, where the battle lines between the Western powers and the Russia and China-led blocs have been clearly demarcated. Biden, who like Modi is making a re-election bid next year, is willing to take his chances with India's right-wing, Hindu nationalist, Bharatiya Janata Party (BJP) government.
The Modi government's 'human rights record' has drawn flak from Biden's Democrat colleagues. However, he is willing to hedge his bets in a bid to cement Indo-US ties that appear to have come full circle from "estrangement to deepening engagement."
Biden said he believes the bilateral ties "will be one of the defining relationships of the 21st century. Since I've become president, we've continued to build a relationship built on mutual trust, candor and respect."
The Modi government, since it came to power in 2014, has been consistently criticized by multiple US officials and media for its record on political, religious and press freedoms. Despite that, the world's most populous democracy now appears to have emerged as the hottest destination for US companies following Washington's rapidly worsening ties with China.
Both nations are battling a common enemy in an ascendent China, especially in the Indo-Pacific, coupled with other pressing global issues such as climate change, AI, supply chain resilience and other issues.
Biden stopped short of lecturing the Indian PM on alleged human rights violations – as announced earlier by the US National Security Advisor Jake Sullivan – while reminding Modi that the partnership must be "grounded on democracy, human rights, freedom and the rule of law." Modi, for his part, broke a tradition on Thursday, which he has kept since he took office in 2014, by agreeing to take part in a formal press conference along with President Biden.
It was a historic occasion since the Indian PM is known to abhor unscripted moments, as he has only given a handful of interviews since he came to power. Typically, state visits include a news conference in which the leaders take questions from two members of the US press and two from the visiting press corps.
Modi fell in line with the protocol and agreed to be quizzed by two reporters – one each from the US and India. Biden, who caught White House officials off guard earlier this week when he called Chinese President Xi Jinping a "dictator," deflected a direct question from an American reporter with an awkward unease and mumbled that he hoped to meet the Chinese leader "in future." Though he cited Modi as a symbol of India's vibrant democracy, he gave a circuitous response to a question about India's supposed human rights transgressions.
Modi was also pressed about the persecution of India's single-largest minority group, Muslims, who account for over 15% of its 1.4 billion population. He brazenly denounced the question and delivered a sermon on the country's "lofty democratic credentials," which it holds in common with the US.
He said the two nations had an "overwhelming respect" for each other because "we are democracies and it is in the US' and India's DNA to expand democratic institutions," adding that "regardless of caste, creed, religion, gender, there's absolutely no space for discrimination."
He maintained that "there is no democracy in absence of human rights as democracy runs in our veins." Answering a query about free speech, the Indian leader said, "I am surprised at what you said. People don't say it. We are a democracy. Democracy is in our DNA. We live in democracy. And it is in our constitution."
He cited the motto of his government – development for all, as all Indian citizens have access to amenities – contrary to the popular perception in the Western world.
Barring the hit-and-miss press conference, Modi is likely to take heart from Washington's largesse. It was a day of mega deals and rare American concessions. US multinational General Electric announced it will partner with India-based Hindustan Aeronautics Ltd., to produce jet engines for Indian aircraft as part of Modi's "Made in India" program, a significant technology transfer offer for a non-US ally.
The Biden administration has also agreed to sell its armed MQ-9B SeaGuardian drones to India. Micron Technology will build a $2.75 billion semiconductor assembly and test facility in Modi's home state of Gujarat, with the Des Moines, Iowa-headquartered US firm to spend $800 million and India financing the rest. US-based Applied will launch a new semiconductor center for commercialization and innovation in India, and Lam Research, another semiconductor manufacturing equipment company, will start a training program for 60,000 Indian engineers.
India has signed a deal with Artemis Accords, a blueprint for space exploration cooperation among nations participating in NASA's lunar exploration plans. And NASA and the Indian Space Research Organization (ISRO) agreed to undertake a joint mission to the International Space Station next year.
The doubling down of pioneering economic cooperation promises to unlock a new future in all walks of life from disease control to accelerating clean energy transition and climate tech, according to President Biden. Bilateral trade between the two countries has reached $190 billion, and the US remains India's largest trading partner by a long shot.
The US President singled out India's contributions to a safe and secure Indo-Pacific as a valued member of the elite Quad grouping, where Australia and Japan complete the quartet. China, like Russia, continues to be the elephant in the room, where the newfound bonhomie between Washington and New Delhi hinges on the US striking gold in a new market like India to keep rival Beijing at arms' length.
Modi reminded the press core of India's climate commitments, including green hydrogen, solar, carbon dioxide removal, and other sustainable net zero initiatives within a stipulated time frame. He also took pride in the dynamic change in bilateral ties, from a buyer and a seller, to that of equal footing, where the initiative on Critical and Emerging Technology (iCET) promises to be a game-changer.
Modi profusely thanked President Biden for lending support to his plea to include the African Union – a grouping of 55 member states from the continent and representing countries in the Global South – in the G20, of which India holds the rotating presidency this year.
Earlier on Thursday morning, thousands gathered on the White House South Lawn for the welcoming ceremony for the Indian PM, including several members of the five-million-strong Indian diaspora in the US, who broke out in a chant of "Modi, Modi, Modi."
The statements, views and opinions expressed in this column are solely those of the author and do not necessarily represent those of RT.
You can share this story on social media: